Queen + Paul Rodgers - Biografia

"I never thought I would be doing this again," said Brian May talking about Queen and Paul Rodgers' first tour in 2005. "I was always against the idea of putting someone in there trying to impersonate Freddie in any way. Then suddenly I'm looking at this guy who doesn't in any sense try to take the place of Freddie. He comes from his own place musically and we are able to reinterpret these songs with someone who understands us – the songs mean something new."
The collaboration between Queen members Brian May and Roger Taylor and former Free and Bad Company founding member songwriter/singer Paul Rodgers was cemented in late 2004 when May, Taylor and Rodgers performed in public together for the first time in November of that year, bringing the house to its feet at the first annual UK Music Hall of Fame Awards in London. On the night when Queen was inducted into the very first UK Music Hall of Fame, they served up a blistering cocktail of anthems "We Will Rock You" "We Are The Champions" and closed the show with "All Right Now".
"There was a natural chemistry between us when we performed together that night" said Rodgers. "The idea took hold for us to do something together after that, and the momentum took on a life of its own."
Roger Taylor noted: "Paul is one of the people who have influenced many great singers out there at the moment, and Freddie was a great fan of his. I always hoped we would tour again and I'm thrilled we're doing it. After all, it's our profession. It's what we do and what we're good at."
In 2005 Queen & Paul Rodgers undertook their first tour together, playing 32 sold out dates across Europe and the UK, ending with a spectacular and enthralling concert at London Hyde Park.
The Independent in London reviewed: "All right now – even without their killer queen. There was a kind of magic in the air when Queen played their first concert since 1986…Rodgers gives good front-man…Queen remains a right royal treat."
"...a marvelous night that ranks as one of the gigs of the year," added The Guardian newspaper in the U.K.
Such was the success of the tour, Queen followed in spring 2006 with a 23-date tour of the USA and Canada and a handful of stadium dates in Japan.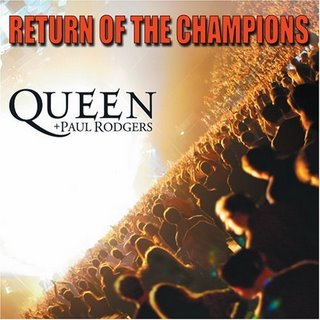 The tour was followed by the release of the live concert DVD and simultaneous CD release, "Return of the Champions" which became a No.1 DVD in the UK.
Now, with their first album recorded together in the pipeline – the first new studio album to carry the Queen name since the Freddie Mercury sessions – Queen & Paul Rodgers are heading back on the road for an extensive tour which will take them to 14 countries in seven weeks and take in concerts in Northern Eurasia, Central, Southern and Eastern Europe, and the UK.. It is expected to be followed by a highly anticipated return to South America, the setting of some of Queen's most historic and record breaking tours in the early 80's.
Their album, title yet to be disclosed, is being readied for release September 1, two weeks ahead of the start of the tour.
The Queen & Paul Rodgers 28-date arena tour will take the band to Northern Eurasia, Central and Southern Europe, and the UK, and is expected to wind up at the end of the year with the band's return to South America, the setting of one of its most historic tours, in the early 80's.
The tour kicks of mid-September in Russia with two dates at Moscow's SCO Olympic Arena, and then follows a path through Germany, Belgium, France, Italy, Switzerland and the Netherlands before arriving in the UK early October for 6 dates including London's 02 Arena on October 13.
The UK dates see the band additionally play Nottingham, Glasgow, Cardiff and Birmingham with a final UK date at Liverpool Arena on October 18 before going on to Serbia, Hungary, Spain, and Austria for seven further dates.
Tracks on the new Queen + Paul Rodgers album are all newly written by May, Taylor and Rodgers during the late 2007/ early 2008 recording sessions. 'Say It's Not True', previously released at the end of last year by Queen + Paul Rodgers as a special World Aids Day download for Nelson Mandela's 46664 HIV AIDS charity will be included, plus a 'first' for a Queen album – a cover version.
Queen was formed in 1971 and spent the next 20 years writing and recording such multi-platinum albums as News of the World, The Game (#1 for five weeks), A Night at the Opera, Classic Queen and Live Killers. According to the book of "British Hit Singles & Album" published by the Guinness World Records, Queen recently overtook The Beatles as the most successful albums artist in UK chart history. They scored 1,322 weeks on the UK albums chart, 29 weeks more than The Beatles and 42 weeks more than Elvis Presley.
As of last June, according to the RIAA, Queen had sold more than 31.5 million albums in the United States, ranking them the 50th biggest selling artist in the States. Foo Fighter's Dave Grohl and Taylor Hawkins inducted Queen into the Rock and Roll Hall of Fame in 2001.
No other artist has formed and led three bands to international success plus had a Grammy nominated Solo career. Paul Rodger's voice is one of rock's platinum assets and as a multi-instrumentalist and songwriter he has written, produced and recorded some of radios biggest hits. He first exploded onto the music scene at 18 with "All Right Now" co-written by Rodgers then in Free. The song became a #1 hit in 20 territories and in the '90s was awarded the Multi Million Award by the British Music Industry for reaching two million radio plays in the U.K. ASCAP has also recognized "All Right Now" for passing three million radio plays in the U.S. The members of Queen have long cited Free's Fire and Water album as "one of our bibles when we were starting off."
In 1973 Rodgers formed Bad Company. As the main songwriter he wrote, produced and recorded six multi-platinum albums in five years, including such global hits as "Feel Like Makin' Love", "Rock & Roll Fantasy", " Shooting Star" and "Bad Company". Rodgers played guitar and piano on several of these recordings. In the U.S., 10 From 6 still generates sales of 500,000 copies annually – 20 years after its release.
Rodgers partnered with guitarist Jimmy Page in the mid '80s as The Firm. They released two CDs with singles "Satisfaction Guaranteed" and "Radioactive" written by Rodgers and had two top-grossing world tours.
Respected by his peers, he has worked with a wide array of musicians including Jeff Beck, Joe Walsh, David Gilmour, Eric Clapton, Joe Cocker, Charlie Watts, Bill Wyman, Deborah Bonham,The Four Tops, Bryan Adams, Slash, The Answer, Roger Daltrey, Alice Cooper, Sam Moore, Howlin' Wolf guitarist Hubert Sumlin, Elvis' guitarist James Burton, The Trans Siberian Orchestra and the list goes on. Rodgers' latest CD/DVD release, "Live in Glasgow," charted internationally and was certified Gold in just 4 months. In 2008 he celebrates his 40th year as a recording artist.
Queen + Paul Rodgers concerts will feature songs from both catalogues as well as material from their forthcoming new album. The set list is sure to showcase such pervasive Queen mega hits as "Crazy Little Thing Called Love" and "Another One Bites the Dust" plus "We Are The Champions" and "We Will Rock You" both uber-anthems in the sports world, and the six-minute opus "Bohemian Rhapsody" which cracked the Top Ten twice: first on its initial release in 1976 and again in 1991 when released again after the passing of Freddie Mercury. The shows will certainly also feature such Rodgers' hits "All Right Now" "Can't Get Enough" "Feel Like Makin' Love" and "Wishing Well".
Over the past seven years Queen has also successfully developed and launched their record-breaking musical "We Will Rock You" around the world, in partnership with Robert De Niro's Tribeca Productions and Phil McIntyre Entertainment. Now in its sixth massively sold out year in London, it is also growing around the world. Currently running in Toronto, Cologne and Vienna, and slated for Italy, it has enjoyed successful runs in Spain, Australia, Russia, Switzerland, and South Africa. A new version of the show is presently on a tour of Asia, opening in Singapore and Hong Kong in the coming months. To date, more than six million people have seen the production.
Between them, Queen and Paul Rodgers have released more than 50 albums during their long careers and sold in excess of a staggering 300 million records.